In this quick tutorial you will learn about How to Defining Customer Engagement policies in Pega Decision Hub
Video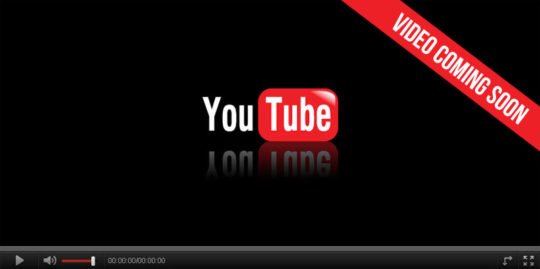 Defining customer Engagement policies
Engagement policies are the set of conditions such as eligibility, applicability, and suitability that qualify an offer or a group of offers for a customer. 
Eligibility
In Eligibility, you define strict rules for what is legal, and even possible, to offer customers.
For example, to be eligible for the Credit Card offer, He must be a customer and age should be greater than 18 years.
Applicability
In Applicability, you specify rules for limiting what to offer based on a customer's current situation, which is often defined by the products they currently have.
For example, a Credit Card offer is not applicable if the customer already has a credit card.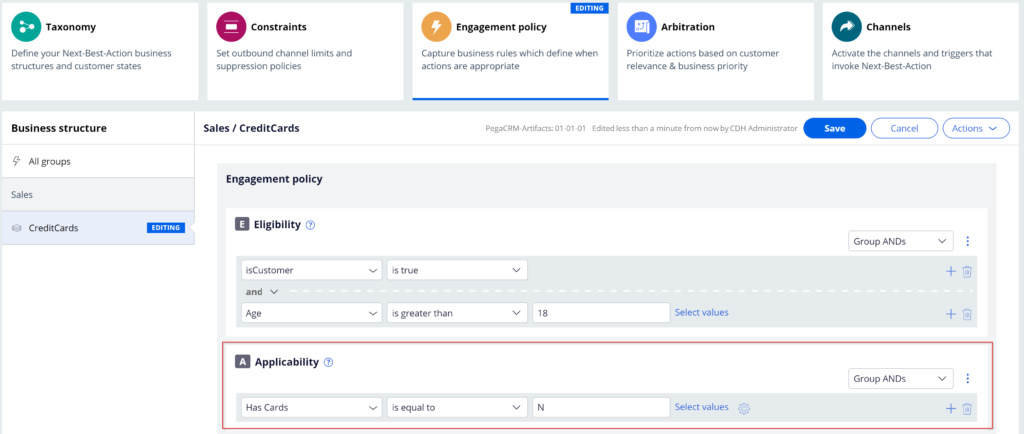 Suitability
In Suitability, you specify conditions that define an offer as appropriate for a customer. 
For example, as the Credit Card is only suitable for a customer whose credit score is below a certain threshold. Although a customer might be eligible for it, and the offer might be applicable to them, it would be inappropriate to market it to them, as there is a risk of default.
Contact policy
Too many contact attempts over a short period of time can have a negative impact on a customer's attitude toward further actions by your company.
In the Pega Customer Decision Hub, contact policies allow you to suppress actions after a specific number of outcomes.
Suppressing or pausing an action prevents oversaturation by limiting the number of times a customer is exposed to the same action.
An Interaction History Summary rule is used to determine the number of impressions and clicks generated by a customer over a period of time.
Defining action suppression rules
Suppression rules determine when and for how long an action or group of actions should not be shown to a customer.
On the Constraints tab, you can define the suppression rules by creating contact policy rules.
Suppression rules determine when and for how long an action or group of actions should not be shown to a customer.
Provide a name for the contact policy.
Then select the type of outcome that will be tracked by the contact policy, in this case Impressions.
Click Submit to add the newly configured contact policy.
Enter the number of responses required to fulfill the suppression criteria.
Select the channel for which the responses are tracked. Note that if you want to track impressions across multiple channels, you can select Any.
Enter the number of days for which an action should be paused after the suppression criteria are met.
The contact policy rules are reusable as policy rules across all business issues and groups.
Add the contact policy rules you just created in the Engagement component.
Interaction History
In the Customer Decision Hub portal, in the top right corner, click the Reports icon -> Interaction History.
In the Interaction History, click on the Recent interactions tab to view recent customer interactions.
Hope you will learned about How to Defining Customer Engagement policies in Pega Decision Hub. Will catch up in the next tutorial